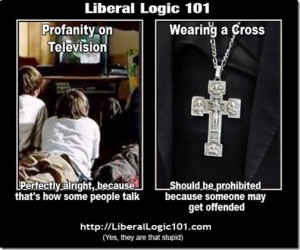 Are you good at coming up with a short and clever way of poking fun at a problem?
Or can you come up with a short phrase and photo that captures something attractive or truthful?
Can you draw up an idea like this meme at the left for religious life?
If so, you can draw thousands to your website using Facebook for free, as was done recently.
The above meme was posted on "Liberal Logic 101′s" Facebook post recently, and was so popular that 7,600 people "liked" it, and 5,000 people shared it among their friends. Note that the organization's web address is visible at the bottom. Wonder how many web visits they're getting? And newsletter signups? And it didn't cost a cent in advertising.